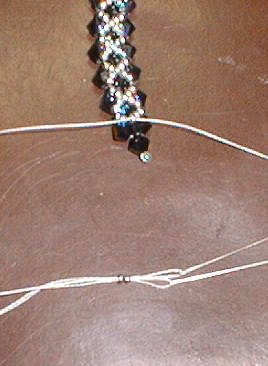 The very last group of beads you work won't have a 'horizontal' bead--what I do here is pick up two charlottes on each needle, then pick up two more on the left needle and come up in the same direction through the second two charlottes as the left needle--so that both needles are exiting two charlottes, in the direction of the top crystal. The needles are then both brought up through the first crystal and the delica sitting on top of it. To finish, I then put both needles through five silver delicas, add a t-bar from a toggle set, pick up three more delicas, and bring both needles down through the fourth bead down from the toggle, making a loop of delicas to hold the toggle bar. (see below)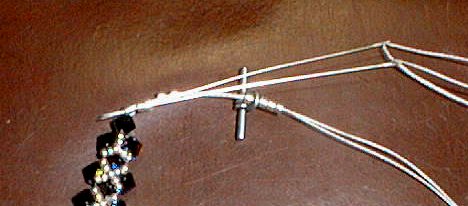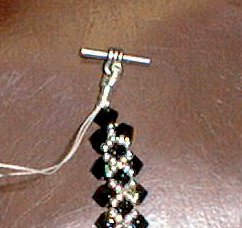 I then bring the threads back through the first crystal and knot and weave them in and out of the crystals on the underside of the bracelet.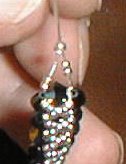 For the hoop part of the toggle, I take a 6 or so inch length of SoftFlex tm and thread it though the last horizontal crystal and up through the two vertical crystals on either side, pick up two charlottes on each strand of softflex, then bring both through a crimp bead or two, bring both ends through the small loop of the toggle, then bring both ends back down through the crimp bead(s) and crimp and cut. There you go--done!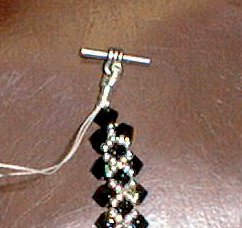 (Non-Frames Home)
(Gallery)
(Patterns)
(Beadartists)
(Links)
I Am A Proud Member Of:



Phenomenal Women Of The Web